America's Cup 'brought Plymouth £9m'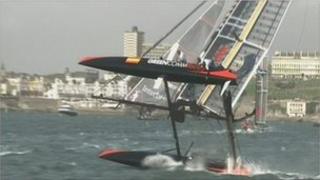 America's Cup yacht racing brought in £9.1m for Plymouth's economy, according to a report.
The Devon city hosted the world series event for nine days in September 2011 at a cost to the council of £225,000.
An independent report said visitors spent £4.1m, the economic impact from increased business among hotels and local suppliers was £1.6m and media coverage was worth £4.2m.
The council described the event as a "huge success".
The study conducted by Social, Economic and Market Research at Plymouth University said about 140,250 visitors watched the carbon fibre catamarans race around Plymouth Sound.
More than 89 local businesses also won direct contracts with the America's Cup organisers and the city hosted developers and environmental technology companies during the event.
The city is hoping to cash in on the effect of the America's Cup with a marine festival in September to attract investment and jobs.
Councillor Ted Fry, Plymouth's Cabinet Member for Economic Growth, said: "We really rolled up our sleeves for the America's Cup and it paid off.
"We learned about the America's Cup looking for a north Europe venue on a Friday, our officers worked over the weekend and we had a contract signed on the following Friday."
He hoped organisers would consider Plymouth again.
"Plymouth has proved itself as such an incredibly successful venue that maybe the teams will say Plymouth is a must," said Mr Fry.