Devon farmer Brian Potter evicted in tenancy fight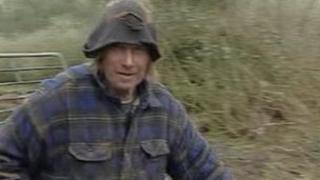 A Devon farmer has been evicted from his home after losing a court battle over a tenancy agreement.
Brian Potter, 64, said he was entitled to stay as a tenant on Little Heath Farm near Tiverton, where has lived since he was a boy.
But in 2011, the Court of Appeal ruled against him and in favour of farm owner Stephen Dyer.
Businessman Mr Dyer, who bought the 45 acre farm in 2006, wants to renovate the farmhouse for his retirement.
Local woman, Diana How, bought the farm in 1990 from Mr Potter's brother Gordon, who had inherited it from their parents.
However, when she died in 1995, the farm passed to a trust administered by a firm of solicitors before it was sold to Mr Dyer.
Mr Dyer won an eviction order at Exeter County Court in 2010.
Mr Potter said he had signed a tenancy on the farm, but trustees said Mr Potter had disputed parts of the agreement which made him liable for repairing the farmhouse and for that reason had failed to sign the tenancy.
The judge agreed and found that Mr Potter had not signed the tenancy agreement.
Mr Dyer said: "All I wanted to do was move into the farmhouse on a working farm, with Mr Potter as my farm manager.
"I offered to convert a barn for him to live in, pay him a wage, and said he could keep the profits of the farm.
"I also said that if he wanted to retire I would pay him £150,000 to leave. But he turned it all down."
Mr Potter confirmed that he had turned down Mr Dyer's offers.
However, he said: "It's totally disgusting that they can suddenly turn someone out of their job, life and home because a millionaire wants to make his home in Devon."
He said he was now living in his car and was considering what other legal options are open to him.