Bideford Town Council to appeal against prayers ban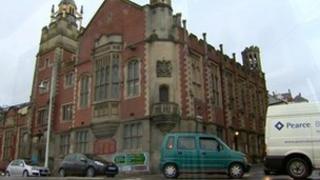 A council which was found to have acted unlawfully by holding prayers at meetings will appeal against the ruling.
The High Court ruled Bideford Town Council's prayers contravened the Local Government Act following a complaint by the National Secular Society (NSS).
At an extraordinary meeting on Thursday councillors decided to appeal.
In the interim, the council said it would hold prayers before meetings started.
The Christian Institute said it would financially support the council in its appeal.
'Disadvantaged and embarrassed'
The NSS took the council to court after a former councillor, atheist Clive Bone, tried but failed to have the prayers stopped.
He claimed he was "disadvantaged and embarrassed" by the Christian prayers and later left the council.
The NSS had argued that prayers were a breach of human rights, but Mr Justice Ouseley ruled they were unlawful because there was no statutory power permitting them to continue under section 111 of the Local Government Act 1972.
He said prayers could be held as long as councillors were not formally summoned to attend.
'Empty victory'
The town council said it had been "surprised and disappointed" by the ruling.
Imran Khan, a Muslim and Conservative councillor on Reigate and Banstead Borough Council, welcomed the judgement, saying religion "had no place" in politics.
He said the ruling was a "victory for everyone who believes that democracy and religious freedom is the cornerstone of Western free society".
However, former Archbishop of Canterbury Lord Carey said it was "an empty victory" as councillors could pray privately before meetings, but he warned the Christian faith faced a "gradual marginalisation".