Giraffe born at Paignton Zoo on Valentine's day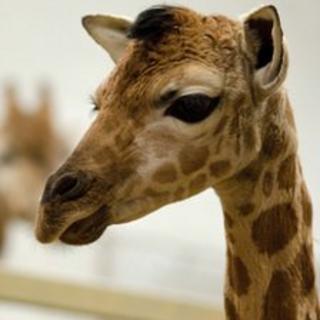 A male giraffe classified as "endangered" has been born to parents at a Devon zoo.
The unnamed baby was born 6ft (1.9m) tall at about 02:00am GMT on Valentines Day to Janica and Yoda.
Staff at the zoo said the baby would not initially suckle and had to be fed by hand.
Senior head mammal keeper Matt Webb said: "Mum is being a bit more attentive, so we are hopeful that things will work out."
Mr Webb said: "He did not suckle on Tuesday. We hoped mother and calf would settle down and he would be able to feed, but keepers and the zoo's in-house vet team had to step in and feed him by hand."
The giraffe's parents are both based at Paignton Zoo, having come from Denmark and the Czech Republic several years ago.
The new baby also has an older brother, Tonda, who was born at the zoo in February 2010.
The family of giraffes are Rothschild's, which are classified as an endangered species.