Hartland farmer calls for red diesel community use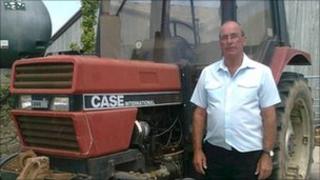 A north Devon man prosecuted for using red diesel to mow his local community playing field has called for the rules to be changed for its use.
Normally it can only be used for agricultural, horticultural and forestry use.
In December the government announced farmers could use the low-duty fuel in extreme weather to help clear roads.
But John Thorne, from Hartland, said community volunteers should also be able to use it.
The retired farmer had been using his tractor to cut the grass at Hartland Football Club's field every two weeks, without charge.
'Common sense'
In June when three officials arrived at the field and found him using the lower-taxed fuel, he was issued with a £250 on-the-spot fine.
HM Revenue and Customs (HMRC) said it was illegal to use it for mowing.
"I never considered that cutting the playing field would be illegal," he told BBC News.
"I don't see why, providing you're not charging and making a living out of it, I can't carry on cutting it on red diesel next year.
"The only way villages operate is with people helping out, otherwise the work doesn't get done.
"Common sense says you should be able to use red diesel to do charitable work."
When HMRC said it would relax the rules, it said it recognised that farmers in tractors played a "vital role" during the winter weather helping to provide access to schools, hospitals, remote dwellings or local communities cut off by ice and snow.