Rare Brazilian tapir born at Paignton zoo in Devon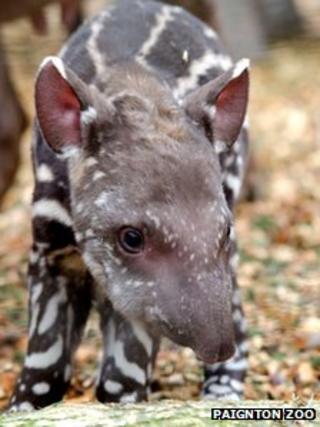 A rare Brazilian tapir has been born at Paignton Zoo Environmental Park in Devon.
The calf called Dexter, was born to parents Misha and Ryan, who have raised seven young in the last 11 years, a zoo spokesman said.
In the wild, Brazilian tapirs live in wet forests and grasslands.
The species is under threat because of habitat destruction and hunting for food, the spokesman for the zoo added.
A single youngster is born after a gestation period of about 13 months.
A zoo spokesperson said: "Baby tapirs have striped and spotted coats for camouflage but they lose their patterns as they grow older."