Fearnley-Whittingstall school fire 'not suspicious'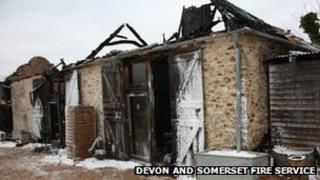 A fire which destroyed a cookery school run by Hugh Fearnley-Whittingstall in Devon is not being treated as suspicious, investigators have said.
The blaze, at River Cottage near Axminster on Tuesday night, took firefighters several hours to control.
The former barn was extensively damaged and it was likely to have been burning for some time before it was discovered, Devon and Somerset Fire Service said.
Temperatures reached more than 900°C (1,650F) in some areas, it added.
'Mechanism of ignition'
Fire investigator Mike Burroughs said the building was "extensively damaged throughout, particularly in the kitchen area and lean to buildings".
He said: "Some very large structural timbers had burnt to completion and there was evidence to suggest temperatures reached over 900°C at low level.
"It is likely that the fire had been burning for some time before it was discovered and was well developed before fire crews arrived.
"The area of origin was the most badly damaged and there was insufficient evidence found to draw firm conclusions on the precise mechanism of ignition.
"However, there are no suspicious circumstances."
The TV chef, who was filming abroad when the fire broke out and could not be contacted for 36 hours, said the fire had been "just impossible to imagine".
The Canteen restaurant and delicatessen, based in the centre of Axminster, has not been affected by the fire.