Hugh Fearnley-Whittingstall shocked by River Cottage fire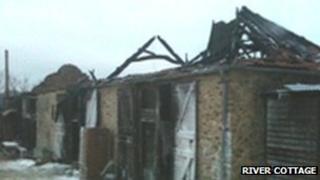 A shocked Hugh Fearnley-Whittingstall has been told his River Cottage cookery school was destroyed by fire.
The blaze, at the events barn near Axminster, on Tuesday night took firefighters several hours to control.
The TV chef has been filming abroad and it took staff 36 hours before they were finally able to contact him via satellite.
"I'm filming a long way away right now and it's just impossible to imagine," he said.
"I'm so shocked to hear the news of the fire in our barn at Park Farm, our River Cottage HQ.
"Obviously it's a huge relief that nobody's been hurt, and I'm very grateful to the local fire brigade for their prompt response and all their help."
'Former glory'
Mr Fearnley-Whittingstall said plans were already under way to set up a working field kitchen and he had no doubt the River Cottage team would pull together to make that happen while he was away.
"In due course we'll set about restoring our lovely Devon barn to its former glory," he added.
Devon and Somerset Fire and Rescue Service said the investigation into the cause of the fire was continuing.
Spokesman Mike Burroughs said: "It is too early to speculate on the cause of the fire but I can categorically state that the fire did not start in the wood fired bread oven or the fish smoker."
No-one lives permanently at the farm and the alarm was only raised by a gardener who was staying overnight in a flat in the farmhouse while working there.
The cooking school at the 17th Century barn contained about 10 ovens, each connected to individual gas cylinders.
Fearnley-Whittingstall, a chef, writer, broadcaster and campaigner, moved into the original River Cottage in Dorset in 1998 to start growing and rearing food of his own.
Lifeboat rescue
In 2006 the headquarters moved into the farm at Axminster near the Devon and Dorset border.
While the fire investigation continues, the River Cottage team are talking to a number of companies to look at options for the site to be "up and running in a matter of days".
"The barn is only one of several buildings at Park Farm which are used for courses and events, and there are plans being discussed today for an additional kitchen and events space to support these," a spokesperson said.
The Canteen restaurant and delicatessen, based in the centre of Axminster, has not been affected by the fire.
Last August, Mr Fearnley-Whittingstall and his son had to be rescued by lifeboat when his boat became trapped on submerged rocks off the coast of Sidmouth.