Crediton residents to help fire cottage owners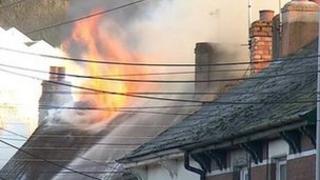 A collection has been started in a Devon town to help those who lost their homes in a devastating fire on Thursday.
More than 100 firefighters tackled the blaze in six thatched cottages in Buller Court in Crediton.
The people who lived in the area are now staying with family and friends.
The town council is co-ordinating the collection, requesting food and furniture as well as money donations.
The fire took hold on Thursday lunchtime in an historical part of the town known locally as the traditional birthplace of St Boniface.
No one was injured in the blaze.
The Mayor of Crediton, Frank Letch, said: "Crediton pulls together in the times of any crisis, locally and nationally.
"It's the sort of town that does put its hand in its pocket to help out."