'Wall-E'-style robot cleans Devon water tower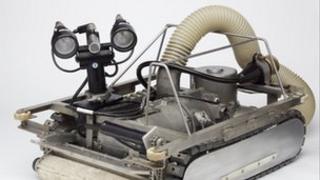 A water tower in Devon has been cleaned by a robot which is said to resemble the children's movie character Wall-E.
Panton McLeod used its VR600 to clean the floor of the Branscombe tower in east Devon.
The firm said it was only the third time such a device had been used in England.
The South West Water-owned tower had a natural build-up of material on its floor which needed removing, the company said.
The tower did not require draining and was operational during the work.
'No disruption'
The VR600 is manoeuvred on tank-style tracks along the floor of any water storage structure, and removes any sediment build-up on the floor.
In order to access the tower, the company had to hire a crane to lift the robot to the top of the 35m (115ft) high structure before disinfecting it and lowering it inside.
A team of engineers then manoeuvred the remote-controlled machine throughout the interior.
The company said: "By using the robot, we ensured that the facility did not need to be taken out of service and drained, ensuring that customers faced no disruption to their supplies during the project."
The VR600 has also been used in Minety Tower, near Royal Wootton Bassett, and Whychurch Tower, near Malmesbury, for Wessex Water.
It could also be used to inspect the condition of underground water storage facilities, including checking the interior of the facilities for corrosion or damage, the company added.
The Pixar-made movie Wall-E tells the story of a small waste-collecting robot which is left to clean up an abandoned, rubbish-soiled planet Earth.