Exeter Steiner parents hope for free state school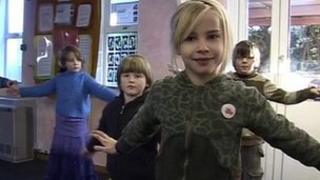 Parents are trying to set up a state-funded Steiner school in Exeter.
Parents and teachers from the existing Steiner Primary School in Exeter are applying to the government for cash through its free schools programme.
The Steiner Academy would teach children from four till 16 and would be the only state funded free school of its type in Devon.
Steiner schools offer an alternative to mainstream education and teach children through play and creative activities.
Free schools are one of the coalition government's flagship policies, promising more freedom for teachers and more choice for parents.
Steiner education is based on the ethos of Austrian educationalist Rudolf Steiner.
A Steiner education aims to provide equal attention to the "physical, emotional, intellectual, cultural and spiritual needs of each pupil" in a system "designed to work in harmony with the different phases of the child's development".
The National Union of Teachers (NUT) has said state-funded free schools take money away from mainstream schools.
The Steiner group said free schools were funded directly by central government, not the local authority.
The primary school charges fees of about £4,500 a year.
Administrator Jenny Salmon said: "There are a lot of people in Exeter who would benefit from it but they can't afford to come here.
"It would be another choice in the mainstream education system.
"I feel it is a fantastic education. One style of education does not suit everybody."
The proposed school, which will prepare children for GCSEs, will be inspected by Ofsted, but will not follow the national curriculum.
Parent Ray Burnley, whose three-year-old daughter attends the primary school, said: "The style of education suits her really well and it it's good to have different styles of schooling around Exeter.
"There seems to be flexibility in the scheme to keep the same ethos that we have here already, but get the advantage of not having to pay huge fees."
The group is now looking for a suitable site for the school in the Exeter area.
A public meeting to discuss the plans will be held on 7 February at Exeter Central Library at 19:00 GMT.
A state-funded Steiner academy is due to open in Frome, Somerset, in September.