Uni Lad website creator 'appalled' over rape comment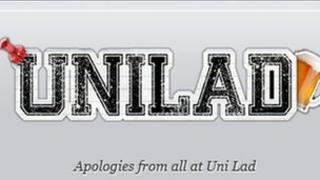 A Plymouth web design student behind a website accused of trivialising rape said he was "appalled" by the content.
Jamie Street faces disciplinary action by Plymouth University over comments made on Uni Lad magazine.
An article said the fact many rapes go unreported represented "fairly good odds" and said attackers should call out "surprise".
Site creator Alex Partridge, from Eastbourne, Sussex, has apologised for the article he called a "shambles".
Mr Street said: "I only deal with the technical aspect of the website and am not responsible for writing or checking the content that gets published.
"I am however appalled myself that Uni Lad went this far."
'Degrading attitudes'
The article, called Sexual Mathematics, was criticised as a "trivialisation of rape" by the National Union of Students.
Estelle Hart, the union's national women's officer, said: "We cannot let them get away with such degrading attitudes towards women."
Criticism of the article has also been published on social networking sites.
One Facebook user said she had been "traumatised" by the article which in "no way" could have been a joke.
Plymouth University said in a statement: "We are appalled to learn of the offensive content of this website and we were further dismayed to learn of the involvement of one of our students.
"While this website has no affiliation to Plymouth University - any student activity, extracurricular or otherwise, which brings the University into disrepute is a disciplinary matter and we will be taking appropriate action."
Uni Lad's creator Mr Partridge said in a statement: "The article in question was a shambles and should never have been printed.
"A simple apology is not enough to rectify any distress we have caused, we overstepped the mark, we took things too far.
"Uni Lad will be greatly improving it's editorial policies to make sure nothing like this happens again."
An apology on the Uni Lad website said that the site would be relaunched "in a few weeks".