Two Devon primary schools to scrap hot meals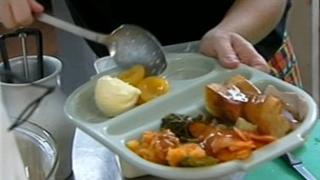 Two Devon primary schools are scrapping hot school meals because they say they cannot afford to buy them any more.
Mrs Ethelstone's in Uplyme and St Andrew's in Chardstock blame outsourcing by the county council of school dinners to Devon Norse.
Ray Beale, managing director of Devon Norse, said the company "had to cover" its costs.
Devon County Council (DCC) said schools had been fully consulted about the outsourcing.
The schools say it would cost them £50,000 over the next three years if they carried on with the contract.
'Absolutely disgraceful'
In September 2011 DCC outsourced the meals to Devon Norse, which is partly owned by the council and introduced increased costs, including a 12% management fee.
Andrea Rice, the executive head of both schools, said: "It's not been an easy decision to make.
"We have to decide the best way to spend the budget that we have, is it right to subsidise those children who want to have school dinners or should it be spent on the education of all the children in the school?
"Even if you increase your meals, their management fee increases as well, it's appalling, absolutely disgraceful."
'Not a charity'
The school meals will stop in April, but hot dinners will be bought in for children on free school meals.
Fiona Clulee, whose sons go to Mrs Ethelstone's, said: "Suddenly we've just got a can of worms opened.
"What seemed to be an economic decision to farm out the food, and here we are, we're not going to have any food'."
Mr Beale said: "It's not a charity. We have got to cover our costs.
"Under Devon County Council there was an arrangement by which the small schools were subsidised at the expense of the large schools, we believe it's important that each school pays their fair share."
Devon County Council said funding had been devolved to school governors to enable them to make decisions locally.