Devon youngsters 'stoned' after gaming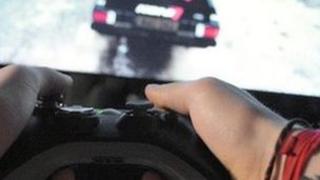 A Devon charity says it has serious concerns over an increasing number of young computer gamers "stoned" from sleep deprivation.
Social workers at Wings South West said the result was that the social skills of gamers were going downhill.
A computer games advice charity said youngsters were in danger of losing empathy and the compassion of "genuine relationships".
One games seller said parents should be more aware of controls to limit gaming.
Paul Bowser, who works with young people at Wings South West in Bideford, said: "We have a number of young people who most of the time look almost stoned, not necessarily on drugs, but just with sleep deprivation because they're gaming all the time.
"Whether it's an obsession or an addiction, I don't know.
"It's certainly different from a few years ago, partly because the technology wasn't there."
'Not inherently bad'
Mr Bowser said gaming was a "phenomenon" that had been around for a while.
"Now we are starting to see the effects in behaviour of young people," he said.
"In the past people had genuine relationships with empathy and compassion which has been replaced by this virtual relationship where they are not necessarily having to show empathy or compassion.
"That's starting perhaps to affect the way they interact on a day to day basis."
However a spokesman from Kids and Media, a charity which offers advice and information on digital media, said although gaming could be addictive, it was not "inherently bad".
"There are dangers, but there are very many positive aspects that maybe adults don't understand," Robert Hart Fletcher said.
"Children and young people are building helpful attitudes and learning to be persistent, they're dedicated and committed and they're making connections."
It was, he said, more important for adults to understand the appeal of gaming rather than "demonising" it.
"Most games today are not played by the lonely geek in his bedroom - they're played collaboratively by people around the world and these children and young people are learning about teamwork and communicating with others," he said.
"Yes, there are dangers, but there are a lot of benefits."
Balanced lifestyle
Bradley Bown of the Game store in Plymouth said more education should be available to parents about the controls available.
Most computers and consoles could be set up to restrict the amount of time spent on them.
"But if someone has had a stressful day then it's better to play a computer game than take it out on someone," he added.
Daniel Wood, of the Association for UK Interactive Entertainment, said it advised gamers to take regular breaks.
"There's no danger of addiction as such but we do recognise that as with all things, some people can do it excessively.
"We believe gaming should be part of a healthy and balanced lifestyle."
He advised parents to engage with children's games and make use of parental controls on machines.
"They should pay close attention to the age rating of games, they are very robust and give guidance on the age, suitability and content of games."
Update 30 January, 2012: This story has been amended to make clear that comments initially attributed to another source were actually made by Paul Bowser.