Plymouth legal high shop criticised by drug rehabilitation centre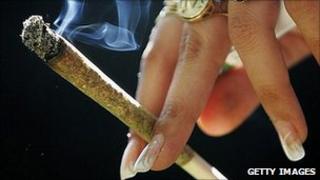 A shop which sells legal highs in Devon has been criticised by a drug rehabilitation centre.
A Dam Good Head Shop, situated opposite HM Customs and a Plymouth police station, sells products to over-18s.
Jeremy Pritchard, of the Harbour Centre, said: "They're chemicals that are being sold to people with no testing. They can't be safe."
Steve Beard, manager of the shop, said: "We're a legitimate business, in a legitimate trade."
'Alternative lifestyle'
The Home Office describes legal highs as drugs which mimic, or are claimed to mimic, the effects of illegal drugs.
The shop in Plymouth city centre sells products including Herb and Radio Active, the legal equivalents of cannabis.
Mr Beard said his shop provided products to people who wanted to live an "alternative lifestyle".
He said: "They're legal in the government's eyes. It is still legal and everyone is entitled to do whatever they want.
'Toxic highs'
"If we were doing anything wrong then we would know."
But Mr Pritchard said: "I call them toxic highs. They're dangerous drugs; they're only legal because the chemical composition of them has been changed slightly from those that are illegal.
"We have seen clients of ours who have taken these psychoactive substances thinking that they are safe.
"And we've had cases that have gone to Derriford hospital or a psychiatric hospital, because they don't know what they're taking."
In a statement, the Home Office said: "The UK is leading the way in cracking down on legal highs by outlawing not just individual drugs, but whole families of related substances that have the potential to cause harm."
Devon and Cornwall Police said the "role of police forces is to enforce those laws".