Exeter Occupy camp told to leave Cathedral Green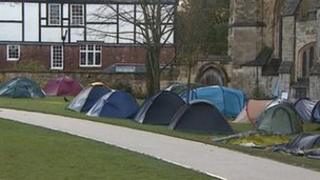 Protesters camped outside Exeter Cathedral have been served with letters by church authorities demanding they leave immediately.
Occupy Exeter, part of a global movement against inequality and corporate greed, has about 30 tents on the Cathedral Green.
Church authorities said they would take action to evict the demonstrators and their tents if they did not comply.
The protest group said it had not yet decided what to do.
The protesters have been in place since November and previous requests by the cathedral to the leave the site have been rejected.
The cathedral also said the group could keep a stall on the green to maintain its presence, but that was also rejected by protesters.
The church said it regretted having to issue the letters, but claimed the camp had become a focus for anti-social behaviour and it would go to court to secure eviction orders if necessary.
The letters warned that no further notice would be given.