Brixham trawler Provident joins Queen's Diamond Jubilee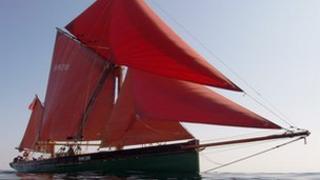 A Devon-based sailing trawler has been selected to take part in the Queen's Diamond Jubilee Pageant on the River Thames.
The Provident will join up to 1,000 other vessels in a Flotilla stretching about 12.5 miles (20km) on 3 June.
It will be part of the Avenue of Sail of larger vessels through which the Queen will pass on the royal barge.
A group of young people from Enfield, north London, will sail her into London and the flotilla.
'Greatest gathering'
The 90ft (27m) Provident was built in 1924 at Galmpton on the River Dart.
It is one of only a handful of such vessels still in use and is now operated by the Trinity Sailing Foundation for training and sailing holidays in Brixham.
Struan Coupar, from the foundation, said: "We are delighted we can support this historic royal event and join one the greatest gathering of craft in our lifetime.
"Provident is an important part of the UK's maritime heritage and a prime example of the Brixham sailing trawler."
Matthew Maxted, also from the foundation, said: "The sailing voyage to London will be a real challenge for these young people from Enfield and will test their skills and team working, but what better way to make a home-coming than by travelling up the Thames, to be part of this spectacular occasion."