Devon MP Gary Streeter in row over 'ugly' Dudley claim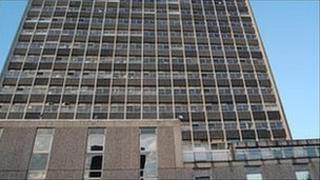 A Devon MP has come under fire for branding the town of Dudley near Birmingham "ugly".
Conservative MP for South West Devon, Gary Streeter, was speaking during a Commons debate on town centres.
He called Plymouth Civic Centre "probably the ugliest thing outside Dudley".
Labour MP for Dudley North, Ian Austin, condemned the remarks, calling on him to visit Dudley to see what it has to offer.
'Beautiful Dudley'
Mr Streeter was criticising a decision by English Heritage to give Plymouth's civic centre Grade II listed status in 2007.
The move scuppered plans by the city council to demolish the 14-storey building, which was opened by the Queen in 1962.
He said: "The decision to list Plymouth Civic Centre as some kind of historic and beautiful building when it's the ugliest thing, probably the ugliest thing outside Dudley, is absolutely disgraceful."
Mr Austin said: "Why should a place which boasts the UK's first national geological nature reserve, a fantastic castle, a beautiful town centre which traces its roots back to medieval Britain and the award winning Black Country Living Museum, be sneered at by someone like him?
"Should he not come by Dudley and see these gems for himself?"
Mr Streeter was unavailable for comment.
English Heritage said Plymouth civic centre was a "very important post war building and is an iconic feature in the centre of Plymouth".
It recommended the listing on the basis that it was a complete set of civic buildings and had an "unusual richness of art work" and "very fine internal decoration".