Occupy camp faces eviction from Exeter Cathedral Green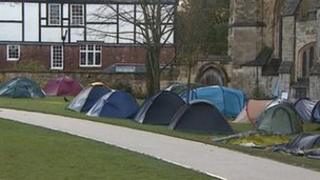 Exeter Cathedral is to start legal action to evict protesters camped in its grounds.
Occupy Exeter, part of a global movement against inequality and corporate greed, has about 30 tents on the Cathedral Green.
The church said the camp had become a focus for anti-social behaviour and it would "reluctantly" go to court to secure eviction orders.
Protesters said they were "disappointed" by the decision.
The camp has been in place since November and previous requests by the cathedral to the protesters to leave the site have been rejected.
Lives 'disrupted'
The cathedral also offered a stall on the green, but that was rejected by protesters.
Protester Abdulla Saad said: "We are rather disappointed that is the avenue they have chosen to take.
"But we shall continue to protest here or elsewhere."
He said a stall would have been "rather impractical" and "negates the purpose of Occupy".
The cathedral said in a statement Occupy had "shown by its behaviour it does not wish to enter into serious dialogue with the cathedral to raise and debate the issues it claims are behind its protest".
It said it was "very disappointed" by the response to its proposal which offered "a constructive way of ensuring that the issues of economic and social injustice - which concern us all - are kept in the public arena".
It said: "The Cathedral Green is both a sacred space and a burial ground.
"The Chapter wishes to ensure it can be enjoyed by all the people of Exeter and its occupation by one protest group is preventing this.
"Those living and working in the vicinity of the Cathedral, including children at the Cathedral School, have had their daily lives disrupted by the presence of the camp, through noise, intimidation and verbal abuse.
"There is also a very real issue of public safety and hygiene in the vicinity of the camp."
City centre manager John Harvey said: "The fundamental problem with Occupy Exeter over recent weeks is that it has increasingly ceased to be a focus for protest and has instead become a honey pot for antisocial and aggressive behaviour.
"As a result of this behaviour the Cathedral have no option but to proceed with legal action.
"I know that local residents, businesses and indeed the community as a whole will wish to fully support the actions the Cathedral are now taking."