Devon multiple slipway building plans considered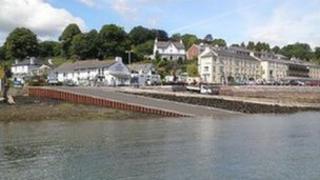 A Devon council is considering building three slipways in close succession in a bid to keep construction costs down.
South Hams District Council said it was investigating replacing ferry slipways in Kingswear and Dartmouth and building a public slipway in one operation.
Building them together would mean saving on set-up costs, site costs and plant mobilisation, it said.
The move was proposed after estimates for one slipway escalated beyond its £400,000 budget.
The council said tenders for the budgeted slipway had come in much higher than anticipated, partly because it had adopted an ecological policy of pledging to protect animal habitats.
The area beneath the slipway was classed as soft estuary mud, it said, and the only viable option was to build on concrete piling, elevating the slipway off the foreshore of the river.
Although this has added to the costs, it would mean mean that the habitat would be comparatively undisturbed, it added.
If approved, construction may be completed in January 2013.