Work starts on Exeter Skypark and Cranbrook Energy Centre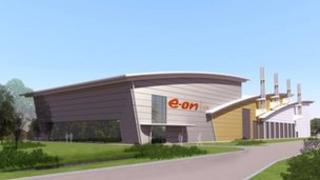 Work has started on an energy centre in Devon to provide heat for businesses and homes in Exeter.
The £3m centre will be built at Skypark, a £210m businesses park currently being developed.
The energy hub, fuelled by biomass and gas, is designed to use turbines to create heat for Skypark businesses and 2,900 homes in Cranbrook, an eco-town.
It is hoped the centre will be completed by September, with surplus power fed back to the National Grid.
'Thousands of jobs'
Companies St Modwen and E.ON, which have developed the centre, said "the system could provide an estimated 13,000 tonnes of CO2 savings per year, the equivalent of removing 5,200 cars from the road".
Ian Guy, of St Modwen, said: "We are delighted to be moving forward with this programme of works, which will help us progress plans to deliver green and sustainable business opportunities to the South West."
Councillor Will Mumford, of Devon County Council, said Skypark "reinforces our commitment to help create thousands of highly skilled jobs in Devon".
Skypark and Cranbrook are both part of the Exeter Growth Point along with the proposed Exeter Science Park and Exeter Gateway freight terminal.
The Growth Point is a vision to build sustainable communities in Exeter and East Devon with the aim of providing skilled employment opportunities for residents.
It is hoped over the next 15 to 20 years it will provide about 20,000 new homes and more than 25,000 jobs.