Exeter Museum attracts record visitor numbers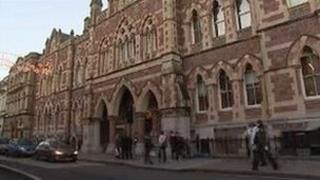 A Devon museum which underwent a £24m makeover has attracted 50,000 visitors in the first month since it reopened.
The Royal Albert Memorial Museum (RAMM) opened in December after a four-year closure. The revamp cost 60% more than anticipated and was hit by delays.
A spokesman for the Exeter museum said the attendance figures had exceeded previous records.
Greg Sheldon from Exeter City Council said: "There has been an overwhelmingly positive response from the public."
'Staggering' numbers
The RAMM said the previous monthly attendance record related to November 2007, the last full month before it closed, when 14,603 people visited.
Mr Sheldon said: "I am thrilled by the way that people have received the new-look museum.
"The visitor figures speak for themselves, they are staggering."
The RAMM said it had seen an increase in visitors from the 14- 20-year-old age group and 96% of feedback forms were positive.
It added that it had also seen a significant increase in the number of applications for work experience and had expanded its volunteer team from 50 to more than 100.