Midwife 'rushed off feet' in Derriford baby death case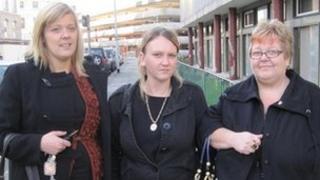 The family of a baby who died less than a day after being born has told an inquest how a midwife was "rushed off her feet" at a Devon hospital.
Kye Stevens died after being starved of oxygen before he was born at Plymouth's Derriford Hospital on 20 November, 2010.
The inquest heard that a single midwife was assessing women before sending them to the labour ward.
Plymouth coroner Ian Arrow recorded a verdict of death by natural causes.
The inquest heard that Kye's mother, Sheena Tippett of Honicknowle, arrived at Derriford Hospital at about 06:00 GMT with her mother-in-law, Heather Stevens, and her sister-in-law, Amy Stevens.
They said a single midwife had been left covering the triage service where women were assessed before being sent to the labour ward.
Amy Stevens said the midwife kept leaving the room Ms Tippett was in and the time she spent in it was "not as much time as she was out of it" as she was answering phone calls "because it might be an emergency".
"She said she had been there all night on her own and was rushed off her feet."
The inquest heard Ms Tippett had been taken to the labour ward after a foetal heartbeat could not be traced.
Kye was delivered at about 07:00 GMT and put on a ventilator, but died the following morning.
A post-mortem examination found he died from acute hypoxic ischemic encephalopathy.
'Incredibly sad'
Dr Julia Lilley, a neonatal consultant, said Kye showed signs of having been "deprived of oxygen around the time of delivery".
The inquest heard the midwife in triage dealt with nine women during her shift.
There were six midwives working on the labour ward with two support staff, after one midwife called in sick.
Plymouth Hospitals NHS Trust said: "The loss of a baby is so incredibly sad.
"There was one midwife off sick, however, the staffing levels were entirely safe for the number of women being cared for that evening and were not identified by anyone as an issue in this case."
Mr Arrow said: "I'm satisfied that there was a natural cause of death. I don't believe there is anything that could have been done to save Kye after he was delivered."