Exeter boy, 12, 'upset' by NHS walking operation rejection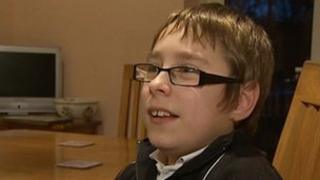 A 12-year-old boy has said it was "upsetting" to find out he had been turned down for an operation which his family believed could help him walk.
Adam Pengelly, from Huxham near Exeter, can only walk unaided for short distances due to his cerebral palsy.
He said: "I just don't want to be in my wheelchair after I've come so far."
In a statement, Devon Primary Care Trust said: "There is insufficient evidence nationally or locally that Adam might benefit from the procedure."
Adam was put forward by a specialist in Bristol for Selective dorsal rhizotomy, which severs the nerves in the back which cause spasms and pain in the leg muscles.
Devon PCT rejected the application despite his prognosis suggesting he would have to rely on his wheelchair more as he got older.
'Limited evidence'
The family claim they were not told the reason for the rejection.
Adam said: "I saw the letter and I was like 'why did they turn me down?'
"The thing is they don't actually say and to me that's quite upsetting really, that's one of the things I wanted to know."
In a statement to the BBC, Dr Ali Round, who considered Adam's application, said: "There is limited evidence that selective dorsal rhizotomy improves walking for patients with Adam's condition.
"It is a surgical technique that the National Institute for Health and Clinical Excellence encourages further research into and notes that most of the evidence for the efficacy of the procedure relates to children younger than Adam."
Adam's mother, Sarah Pengelly, said she was disappointed by the decision and believed it would have been more cost effective over the long term to carry out the procedure.
The family said it was considering whether to appeal against the decision.