Binmen criticised for sick days by North Devon Council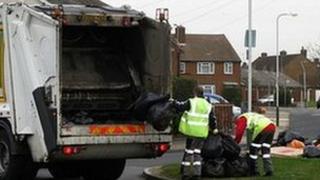 Refuse collectors and recycling workers in part of Devon have been accused of taking too many sick days, by North Devon Council (NDC).
NDC said members of its Works and Recycling Team took, on average, 19 days over the past financial year.
The council said it wanted to reduce the figures and had sacked a worker over the issue in the past week.
Unison, which represents the workers, said it was happy with the the way the council was tackling the problem.
A report compiled by NDC showed that in the 2009-10 financial year the average number of absent days was 12.27, which increased to 19.09 days in 2010-11.
'Swinging the lead'
The current industry benchmark was "just over 12 days" and the average number of sick days office based staff took was 7.2, the report added.
Deputy leader of the council Rodney Cann said: "I suspect that one or two individuals were actually swinging the lead a little bit hence we've seen one sacked last week.
"Basically our staff are hard working, loyal and they attend very regularly. We've got a tremendous staff but there are a few individuals who have created this situation."
Mr Cann said the council had "created a management board" which monitored the absences and any agency cover required had to be approved by him.
'Slips, trips and falls'
It had also set up an interview process for those "we think are taking excessive time off".
Unison representative Jeff Fox-Warren said: "Management brought in new robust procedures to allow them to manage sickness down to an acceptable level. "
He said it was a "hard messy job" leaving the workers "susceptible to colds, slips, trips and falls" so "sickness figures will be higher than office workers - but it's too high."
None of the Works and Recycling Team would comment but a council cleaner who wanted to remain anonymous said: "They're always running around, they're not walking, they are fairly well pushed to get things done."
In the final quarter of the past financial year, from January to March 2011, an average of 5.69 sick days were taken and the first two quarters of this financial year showed, on average, just over eight days have been taken.
The figures are due to be reviewed and considered by the overview and scrutiny committee on 12 January.