Devon and Somerset fire log changes 'could hide cuts'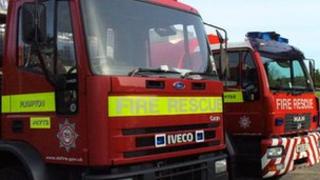 A move by Devon and Somerset Fire Service to stop publishing full attendance records for emergency calls could hide future cuts, a union claims.
The service is only publicly publishing the response time of the first fire engine at a scene. Full records will only be available internally.
Unions said the change meant the public would not get the full story about the service's work and performance.
The service said the changes made the public figures easier to understand.
Dave Chappell, from the Fire Brigades Union in Exeter, said: "We are deeply concerned that the real intention is just to be a smokescreen for further cuts."
'Want to know'
He added that if major changes were made to the service's infrastructure, "you wouldn't know that unless you saw them published".
Assistant chief fire officer Peter Smith said the changes told the public what they needed to know.
He said: "The actual focus is in very specific information which people want to know.
"They ask: 'When I dial 999, is that fire engine going to get to me in time and do something to help me?'
"That is absolutely critical to people."