Drivers 'ignore' M-way warnings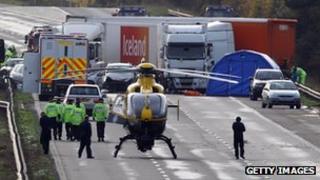 A senior fire officer has described drivers' actions following an accident on the M5 in Devon as "terrifying".
Andy Newland stopped to help after a car crashed into the central reservation between junctions 28 and 29 near Exeter on Tuesday evening.
Despite flashing blue lights and motorway warning matrix signs, he said some people continued to drive at speeds of 70mph (113km/h) or more.
The cars' occupants were not hurt, but could not get out of the car safely.
Mr Newland, a group manager with Devon and Somerset Fire and Rescue Service, said the accident blocked the "fast" outside lane of the southbound carriageway.
Before the emergency services arrived, Mr Newland positioned his own vehicle with its flashing blue and red lights ahead of the crash and the Highways Agency activated the M5 matrix signs, warning of the incident and a lane closure.
However, many motorists ignored the warnings to reduce their speed, not only threatening the safety of the crash victims, but also putting emergency services' personnel at risk.
"I witnessed multiple near misses as on-coming and still speeding motorists took evasive action," he said.
Mr Newland, who has worked with the fire service for 26 years, said it was a "terrifying" experience.
"It was as if the scene was invisible to dozens of motorists... it was a miracle no-one was killed or injured," he added.