South Devon Railway reports third 'record' season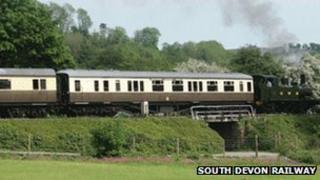 The South Devon Railway (SDR) has had a "record breaking" season with passenger numbers up to more than 112,000.
It said the third consecutive record season was an appropriate end to its 20th anniversary year.
General Manager Dick Wood attributed the success to improved visitor facilities and the "nostalgic appeal" of steam.
He said the achievement was a "major milestone" for the line, which is largely run by volunteers.
Passenger numbers rose from 111,989 in 2010 to 112,400 in 2011.
SDR is one of Britain's oldest heritage steam railways, having opened in 1969.
Steam heyday
Originally owned by the Dart Valley Railway, it was sold off in 1991 as "uneconomic" to the SDR which operates the seven-mile (11.2km) track from Buckfastleigh to Totnes.
Passenger numbers have been increasing steadily and since the charity took over the line, it has carried nearly 1.8 million people.
Mr Wood said the aim was to provide a quality heritage experience by transporting visitors back in time to the heyday of the old steam railways.
"Our success has been achieved by not only broadening the SDR's undoubted nostalgic appeal to people of all ages but also by providing better visitor facilities and investing in our future," he said.