Missing Princetown cat home after four years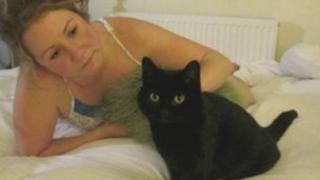 A missing cat has been reunited with her family in Devon - more than four years after disappearing.
Willow, a 10-year-old black moggy, went missing from Cristel and Mark Worth's home in Princetown in 2007.
On Tuesday, Gables Farm Dogs' and Cats' Home contacted the Worths to say a microchip scan had identified a stray cat found in Plymouth as Willow.
"It's really only sinking in now, but it's the best Christmas present ever," Mrs Worth said.
The loss of the cat, who Mrs Worth had rehomed from an RSPCA centre as a kitten, devastated the family.
'Lost for words'
"We opened the door one day to let her out to play as normal and she just vanished," Mrs Worth told BBC News.
"For a long while I used to go out to look for her... but after four years it's fair to say I'd almost given up hope of ever seeing Willow again.
"I was lost for words when I received the phone call from Gables Farm."
A family from the Elburton area of Plymouth found a "skinny, limping and unhealthy" cat about six months ago but, because Gables was full, it agreed to look after the cat until a space was available.
That happened earlier this week and when staff at Gables Farm scanned the cat they found her microchip and contacted the Worths.
Mrs Worth said the call came at 15:30 GMT - just 30 minutes before the centre was due to close.
"By the time I'd answered the security questions, we'd only about 20 minutes to dart across the moor and get to Plymouth (about 16 miles/26km away).
"We'd been in our pyjamas watching a Disney film with the children - I didn't even change, so it was a bit embarrassing, but thankfully Gables stayed open for a few minutes until we arrived.
"Willow seemed extremely timid the first night, but she jumped up on the bed and slept on my tummy all evening, so I'm sure she knew me."
She said although her six-year-old daughter Izzy-May "vaguely" remembered Willow, the cat was a "delightful" new addition to the family for two-year-old Olivia-Rose.
"Willow's still a little bit nervous around children, but the girls have been helping to feed her and they've played with a ribbon with her."
After the holidays, Mrs Worth plans to take Willow to the veterinary centre she was registered with before she disappeared for a "full MoT", but she is in no doubt the cat will pass with flying colours because of the care she has received since she was found in Plymouth.
"I want to contact the family who looked after Willow so well for the past few months - she looks fantastic and I'll never be able to thank them enough," she added.