Dawlish flood defences see £400,000 repairs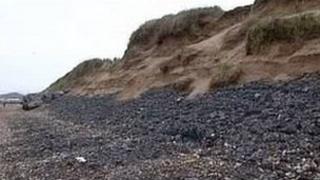 More than £400,000 is being spent on repairing flood defences which protect homes along a Devon estuary.
A 200m stretch of defences is being repaired at Dawlish Warren by the Environment Agency.
Rock-filled baskets along the sand dunes act as the "backbone" to protect the warren from the sea, a spokesman said. The work will last three months.
The money will replace the baskets which have been damaged and exposed by the sea, he added.
Dawlish Warren is a sandy spit which extends into the mouth of the Exe estuary.
The defences are made up of 17 timbre groynes and rock-filled baskets, called gabions, and concrete.
The agency spokesman said: "Because a large amount of sand has been washed by waves from the seaward side of the dunes the existing gabions have become exposed and damaged."
New rock-filled baskets will be placed along the base of the dunes, and then covered with sand.