Final day protest against Plymouth Airport's closure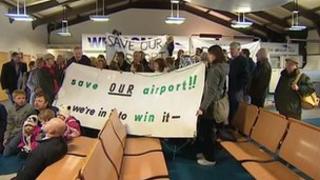 Protesters have made a last-minute appeal to keep a Devon airport open on the day it is due to close.
Between 50 and 60 people carrying banners were at Plymouth Airport on Friday morning.
The airport is to close on Friday night after its operator, the Sutton Harbour Group, said that routes from the airfield were no longer profitable.
No aircraft will be able to use the site from 22:30 GMT. The site has been used for flying since the mid-1920s.
The airport was officially opened in 1931 by the Prince of Wales, later King Edward VIII.
The last commercial flight by Air Southwest, the airport's sole carrier, departed in July.
Members of Plymouth City Council, the landowner, voted in August to accept the airport's closure.
Critics of the closure said the move would harm the local economy, affecting business links.
The closure will see the site's last eight staff lose their jobs.