Devonport Dockyard incinerator approved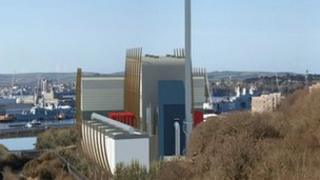 Proposals for an energy-from-waste plant at a Plymouth naval base have been approved by city councillors.
Councillors voted through the plans for the incinerator at Devonport Dockyard by seven votes to five on Thursday.
German-owned MVV Environment said the incinerator would burn about 250,000 tonnes of waste a year.
People living nearby have said they are concerned about extra traffic and the health implications of the operation.
'Only decision'
The plant at Devonport's North Yard will process waste from across south Devon.
Its approval came after a five-hour debate which resulted in seven Conservatives approving it, against five Labour councillors, in the Tory-run authority.
The Conservative chairman of the planning committee, Councillor John Lock, said: "It's the only decision for the people of Plymouth.
"There's nowhere else to go with refuse now and it has to go somewhere."
The company hopes to start building in April, with the closest properties being 200ft (62m) from the site.
One protester who lives about that distance away, Stuart Wilson, from Barne Barton, said noise and health concerns were issues.
He said: "Apart from boarding up the windows with sound-reducing panels, I can't see any way of reducing the impact.
"We've already experienced noise from test drillings and that's made people leave their homes."
'Not complacent'
Paul Carey of MVV Environment said the decision marked "a milestone in the development of our project after three years of very detailed planning and serious discussion".
He said: "Now that we have a positive decision, we want to assure those who have expressed reservations or opposition that we are not complacent.
"We intend to be in Plymouth and serving the South West for many years and it is incumbent on us to prove we can be good neighbours and to win people's trust."
The approval comes with £16m of conditions attached for MVV, including donating money for schools and a community trust.
The Environment Agency previously said it supported the application and was satisfied it would not "significantly" pollute the environment or harm health.