Plymouth MP ask minister for help to keep airport open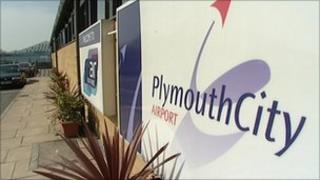 A Plymouth MP has written to the government in a "last-ditch attempt" to save the city's airport.
Alison Seabeck, Labour MP for Plymouth Moor View, said she had sent a letter to Transport Minister Theresa Villiers.
Sutton Harbour Group, the airport's operator, is due to close the airport in December, saying routes are no longer profitable.
The last commercial flight by Air Southwest, the airport's sole carrier, departed in July.
Ms Seabeck said she was writing to the minister because Ms Villiers "very recently promised to look at state aid for regional air services".
The Plymouth MP said: "If I can again demonstrate to the government, as I did before when meeting the Business Secretary, what the loss of our air link would mean for the city, perhaps there will be a desire to jump into swift action.
"I am not holding out any hopes but everything must be tried.
"It will be a great loss to Plymouth, especially to the business community."
Councillors voted in August to accept the airport's closure.