Navy's HMS Somerset celebrates independence of Tanzania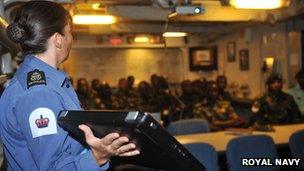 A Royal Navy frigate from Devon has visited Tanzania to celebrate the 50th anniversary of the country's independence.
The crew from Devonport-based HMS Somerset met members of the country's defence service and held a lecture about tackling crime at sea.
The frigate has been defending worldwide trade routes and assisting in military operations.
It was deployed in August and will return to the UK in February 2012.
Supplies were also collected during the visit to the country.
The Type 23 frigate has previously been deployed to the Mediterranean and the Gulf.
Between 1916 and 1961, Tanzania was under British rule.
Related Internet Links
The BBC is not responsible for the content of external sites.