Devon hog roast 'possible' salmonella cause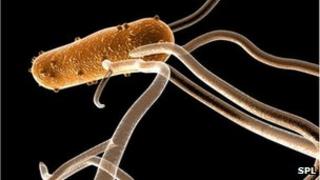 Health officials say a hog roast at a Devon charity event was a "possible source of infection" after 14 people suffered salmonella poisoning.
The Health Protection Agency (HPA) found 14 cases of salmonella among people who attended the Hope Cove lifeboat event on 23 April.
It said 12 of the 14 infected people had eaten pork from the roast.
But it said despite "extensive enquiries", it had not been able to confirm the source of the outbreak.
About 250 people went to the event to raise money for the seaside village's lifeboat.
Graham Phillips, chairman of the lifeboat committee, said: "We are sympathetic to people that were ill but we are confident we took every step possible to make sure the catering met health regulations.
"We would not set out to cause harm to people and we have bent over backwards to help the HPA in its investigation."
'Nothing left'
The HPA started an investigation after a number of complaints of food poisoning from people who said they had eaten from the hog roast.
But the HPA said there was no food left over from the event available for testing.
It concluded: "It is not possible to confirm the source of the outbreak although the hog roast is the main link we identified between the cases."
A spokesman for South Hams District Council said the complaints had been "fully investigated" but it had decided there was not enough evidence to link the roast with the poisoning "beyond reasonable doubt."
He said: "The key element for a successful prosecution would have been to confirm the strain of salmonella from the carcass of the roast pig, and then test victims to confirm it was of the same strain.
"However this was not possible because there was nothing left of the pig."