'Fireworks attack' on Occupy Exeter camp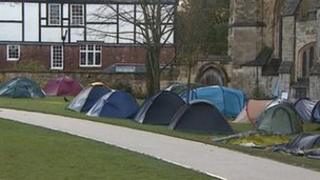 Occupy Exeter protesters have said fireworks were thrown at their campsite overnight.
The anti-capitalist activists said the fireworks were launched at about 03:00 GMT.
One person was pulled from a smoke-filled tent after a firework struck it, damaging the material, although no-one was injured, the protesters said.
Devon and Cornwall Police said they were called to the incident but had not made any arrests.