Best drama Golden Globe nomination for War Horse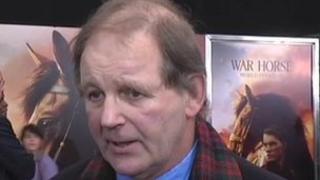 A film about a horse sent from rural Devon to fight in France during World War I has been nominated for a Golden Globe best drama award.
Steven Spielberg's War Horse is based on a book written by Michael Morpurgo and was partially filmed on Dartmoor.
The Devon author, who has a cameo role in the film, described it as both "very beautiful" and "horrifying".
He praised the Hollywood director for retaining the integrity of his story.
The Golden Globes, considered to be the first major event of the Hollywood season, will be awarded on 15 January.
Mission to trenches
War Horse tells the tale of farm hand Albert Narracott's mission to find his horse Joey who has been sold to the British cavalry by his father and shipped to France where he is plunged into the bloody carnage on both sides of the trenches.
When Albert is old enough to enlist, he embarks on a mission to the trenches to find Joey and bring him home to Devon.
Michael Morpurgo, the former Children's Laureate, wrote War Horse in 1982.
It was adapted for the theatre in London in 2007 and has also received critical acclaim since opening on Broadway in the United States.
It is not known whether the author will travel to the United States for the Golden Globe awards.