Dartmoor tungsten mine link road work to begin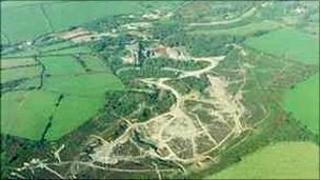 Construction work to restart tungsten mining on the Dartmoor side of Plymouth is to begin in January.
The first set of works is to build a 600m (656yd) link road that paves the way for mining operations at Hemerdon, near Newnham.
The mine company, Wolf Minerals, said it had chosen Bardon Contracting to build the road between Lee Moor Road and West Park Hill in Plympton.
The link road should be finished in June.
Plymouth planners recently approved the proposals to build the link road.
The revival of the tungsten mine was announced four years ago and Australian company Wolf wants start mine operations in 2014.
The mine was first discovered in 1867 and mineral-working was carried out between 1919 and 1920 and again between 1934 and 1944 before the mine was closed.
Tungsten is used in metal-working, construction and in the manufacture of electrical equipment and light bulbs.
Its price is currently close to a 10-year high.