Devon kitten in microwave woman Gina Robins jailed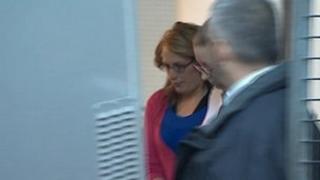 A Devon woman who killed a 10-week-old kitten in a microwave has been jailed for 168 days.
Gina Robins, 31, of Salisbury Avenue, Torquay, was found guilty earlier of causing the animal unnecessary suffering.
Robins had claimed the kitten had been shut in the microwave oven by other cats.
Torquay magistrates heard Robins had been angry with the cat's owner, her friend Sarah Knutton.
The court was told Ms Knutton had reported a former boyfriend of Robins to police over a separate matter before the incident in February.
'Horrendous screeching'
Robins had asked to use Ms Knutton's microwave to heat some baby food for her 18-month-old son.
But instead she shut the kitten in the oven and turned it on.
Ms Knutton was sitting in her living room and heard a "loud popping noise" and then a "horrendous screeching".
Ms Knutton said Robins did not shed a tear and just "stared at me and didn't say anything about the incident".
Robins told the court some of Ms Knutton's cats had jumped on to a work surface in the kitchen.
She said the kitten must have walked into the microwave oven and some of the other cats started fighting and shut the oven door, which automatically started up the device.
'Little remorse seen'
Liz Clyne, chairwoman of the bench, told the defendant: "We have seen little remorse for the death of the kitten or the trauma caused to your former friend Miss Knutton."
Robins showed no emotion as she was led away to start her sentence by two dock officers.
Robins was also banned from keeping animals for 10 years.
Ms Knutton said after the case: "What sort of person does something so cold and calculating?
"I did not expect her to go to jail for it. I am just glad it is now all over."