Devon gets first winter countywide gritting of roads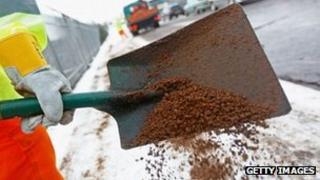 Devon County Council has sent out gritters to carry out the first full county-wide treatment of roads for winter.
Only specific areas and higher ground had been treated over the past few weeks because of milder temperatures, the council said.
But all areas were expected to experience conditions below freezing over the weekend, it added.
About 3,000 grit bins across Devon have also been refilled.
More than 220 towns and parishes have signed up to a snow warden scheme to provide self-help in communities during any severe weather.
As well as the council gritting, which includes about 1,700 miles (2,700km) of A and B roads, the Highways Agency was also treating about 170 miles (270km) of the strategic road network - including the M5, A38 and A30 - the council added.