Speed sign painted on house in Devon 'a success'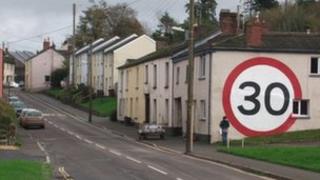 A man who painted a 15ft (4.5m) 30mph sign on his house in a Devon village says he believes it has helped cut speeding in the area.
Tim Backhouse painted the sign in Bow to slow traffic on the A3072 as part of Road Safety Week UK.
Builder Mr Backhouse, who has since painted over the sign, said: "It slowed traffic down, that's for sure."
Devon County Council declined to comment on the current traffic situation in the village.
'Lower limits'
Mr Backhouse, who moved to the village two years ago, said he had much support from villagers and that he "hadn't heard from anybody officially" during the time the sign was up.
It had also highlighted campaigns for speed limits lower than 30mph (48km/h) through residential areas, he added.
He said: "One of the main things is that it also helped raise national concerns that are there. I think 20mph is the future."
The sign has not completely disappeared from view because more coats of paint are needed.
Mr Backhouse said he had always intended to paint over it on 5 December.
"I've only done one coat of paint so far, but I think it will take two or three," he said.
Previously, Devon County Council said its own tests revealed most drivers kept to the village speed limit but it was aware of residents' concerns.