Mild weather could spell vegetable shortages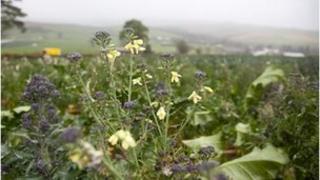 Mild autumn weather means that vegetable growers in Devon and Cornwall could be struggling to meet demand in the spring.
Cabbages, sprouts, broccoli and cauliflowers have matured two months earlier than normal.
Savoy cabbages at Riverford Farm near Totnes in Devon have grown too big for its vegetable boxes so they have had to be ploughed back into the ground.
And Cornish farmers are predicting a cauliflower shortage after a glut.
Low prices
Rachel Lovell of Riverford said: "Cold weather stems the growth and without it the veg carries on growing all year round.
"The mild autumn means that we have a cabbage crop two months early.
"Our concern now is whether or not they'll hold until we can pick them.
"This shouldn't be a problem so long as it chills down a bit to keep a lid on things. I never thought I'd say this, but bring on the snow and ice."
About 15-20% of the cabbage crop has had to be ploughed back into the ground because they are too big.
Riverford, which supplies 40,000 boxes of vegetables to households every week, is now hoping for a cold snap to slow down vegetables' growth.
Philip Pryor, who grows cauliflowers near Truro in Cornwall, said that the warm weather had caused a glut and a fall in prices.
"Now the weather has gone back to a more normal pattern, volumes are not going to be there for what is required for the Christmas market.
However, the mild weather in October and November has allowed easier picking of vegetables and less blight.
This time last year crops like parsnips were frozen into the ground.