Devon village upset over Olympic torch relay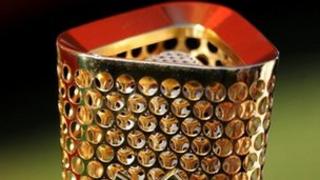 People in a Devon village are disappointed after learning that they will not see the Olympic torch as it passes along the relay route in 2012.
The Olympic torch will travel from Modbury to Kingsbridge by bus, the parish council has been told.
And Olympic organisers have confirmed that the torch will not be visible as it passes by Aveton Gifford or other villages on the route.
The torch will travel on the village bypass on 20 May en route to Exeter.
It will be carried through 30 cities, towns and villages in Devon.
Runners will carry the torch through Modbury before it is put on a bus and taken to Kingsbridge where it will be carried through the town before being put on a bus again to West Charleton.
It is part of a 70-day tour of the UK before the torch arrives at London's Olympic stadium for the opening ceremony on 27 July.
A Locog spokeswoman confirmed that the torch would "unfortunately" not be visible as it passed communities between the running destinations.
She said: "It will be in a convoy to ensure it gets between the towns and and cities as quickly as possible to get as many as we can.
"Ninety five per cent of the population will be within 10 miles of where the relay will be."
John Coates, chairman of Aveton Gifford Parish Council, said: "I expected that we would see the torch, anything less that and I feel let down.
"We are on the route but if you blink you'll miss it.
"There is nothing quite like being able to say 'I saw the Olympic torch relay'.
"But 'I saw the bus the Olympic torch was being carried on' is not really the same."
Locog said it had talked to local authorities before deciding on the torch destinations.
Each torch bearer will run about 300m.
Among the first people to be offered a conditional place in the torch relay was Plymouth teenager Sophie Elvin.
The 17-year-old was nominated after being praised for her work with a local theatre club and as a mentor to other young people.