'Insufficient' Dartmoor prisoner workshop places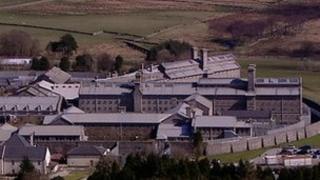 An annual report into Dartmoor Prison has revealed that there are insufficient workshop placements for prisoners.
The Independent Monitoring Board (IMB) said prisoners had opportunities to attend courses in bricklaying, carpentry, plastering and painting.
But sometimes workshops were too full to give a "realistic experience" of work.
No-one was available to comment from the Prison Service.
The report also highlighted the "courage" shown by officers when facing hostile situations and said it was pleased with the skills of many staff in managing challenging prisoners.
Dartmoor Prison is a category C prison with 514 adult male inmates, including 25 serving life sentences.
The IMB said in the report that it had raised concerns in the past that Dartmoor did not have sufficient employment to enable all who wanted to work to do so.
'Poor workplace habits'
The report said: "One problem is that in some workshops a larger number of prisoners are sent than can be fully occupied for the time that they are there.
"This means that they do not have a realistic experience of the workplace and may learn poor workplace habits.
"Another is that prisoners arrive within a few weeks of their release date and move on and off courses quickly."
Discussions were taking place to further develop the horticulture programme in partnership with the Eden Project, said the report.
Margaret Blake, from the IMB, said giving work to prisoners reduced reoffending.
"It costs a lot of money to keep a man in prison and if he comes out as likely to offend as he went in then as a taxpayer it is very poor value for money."
The Storybook Dad project was highlighted by the report as a "continuing success".
Storybook Dad, a charity based in Dartmoor Prison, helps inmates record and edit a bedtime story, which is then sent home to their children.
John Handcock, of the Prison Officers Association, said staff at the prison did a "remarkable job" and the report was aimed at the heads of the Prison Service.