Court trial over ELO cellist Mike Edwards' death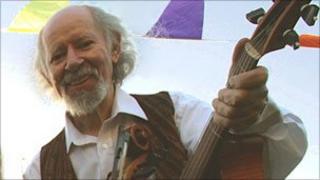 Two men arrested after a 1970s rock musician was killed in a hay bale accident in Devon are to face trial.
Mike Edwards, 62, former cellist with ELO, died when his van was crushed by a giant bale of straw at Halwell, near Totnes, in September 2010.
Brian Burden, 46, of Bickleigh Farm, Halwell, and Russell Williams, 25, of Forces Cross, Blackawton, deny two health and safety charges.
They will stand trial at Plymouth Crown Court on 23 January.
Millions of records
Mr Edwards died after a 600kg (94st) cylindrical bale toppled over a fence in a field above a road, rolled down a steep slope and crushed the roof of his van.
In the first charge, the pair have been accused of failing to control where the hay bale was placed while awaiting collection, and failing to ensure Mr Edwards, or others, were not exposed to the risk of bales rolling.
The second charge accuses them of not making a proper risk assessment.
ELO (The Electric Light Orchestra) was formed in 1971 and Mr Edwards, who trained at the Royal Academy of Music, was in the line-up from 1972 to 1975.
The band, who played rock and pop music with classical overtones, sold more than 50 million records worldwide and had numerous hit singles and albums in the UK and the US.
Mr Edwards later left the band and eventually settled in Devon, forming the Devon Baroque group.