Dan McCauley's £10m plan for Plymouth's Drakes Island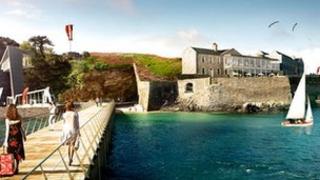 The owner of a derelict island off Plymouth has released plans to regenerate it at a cost of about £10m.
Dan McCauley wants to build a hotel, spa, restaurant and give the public limited access to Drakes Island.
A day of public consultation is being held, with the application expected to be submitted to the city council before the end of the year.
The island is about six-acres long and contains military barracks and buildings from the Napoleonic era.
Mr McCauley said he had worked with Plymouth City Council and English Heritage to develop the plans.
Historically the island, which lies half a mile off Plymouth's waterfront, has played a role in the defence of Plymouth.
The plans propose to reuse the existing Grade II-listed island house, barrack block and other buildings for the development.
In 2003, plans to turn the barracks into a hotel, and to build a visitor centre and helipad were rejected by Plymouth City Council.
A spokesperson from architects Lacey Hickie Caley, which is behind the current plans, said: "This is a separate application.
"We are listening to what people are saying today and working closely with the council and various other organisations."
If planning permission is granted, Mr McCauley and his Tiverton-based company Rotolok Ltd hope to start building the facilities in 2012, for it to be opened in 2013.