Bideford Town Council prayers challenged at High Court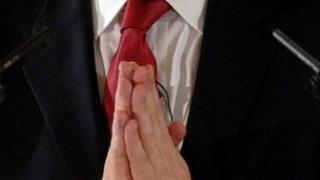 Saying prayers before local council meetings is to be challenged in the High Court.
The National Secular Society (NSS), will argue Bideford Town Council's "archaic" ritual is "inappropriate" and a breach of human rights.
It said the Devon council should be "a secular environment concerned with civic business".
No-one from the town council was available to comment on the case, which will be heard on Friday.
But in August last year, George McLaughlan - the then town council clerk - told BBC News the council would defend the case and contest the NSS's claims.
The NSS is acting on behalf of atheist councillor Clive Bone, who had previously tried, but failed, to have the prayers stopped.
'Divine guidance'
A suggested compromise period of silence was also rejected by the council, the society said.
Mr Bone said he was "disadvantaged and embarrassed" when Christian prayers were said at the start of the council's meetings.
NSS lawyers argue council members of no religion are being indirectly discriminated against without justification, which it claims is unlawful.
They contend the council's insistence on prayers being said breaches articles 9 and 14 of the European Convention on Human Rights, which protect an individual's right to freedom of conscience and not to face discrimination.
NSS president Terry Sanderson said religious prayer in a multi-faith society had the "potential for conflict".
He cited a case in Portsmouth earlier this year when a councillor walked out of a council meeting because an imam had been asked to deliver an opening prayer.