Park authority money for sustainable Dartmoor projects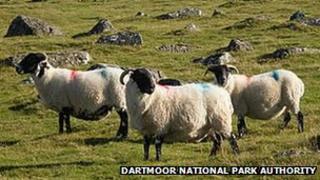 Dartmoor National Park Authority has given a total of £30,000 to a range of sustainable development projects.
The authority said the successful schemes would provide environmental, social and local economic benefits for Dartmoor.
The money was awarded by the Dartmoor Sustainable Development Fund panel.
The projects included making use of Dartmoor wool fleeces, providing charging stations for electric vehicles and building a village hall extension.
The panel awarded £5,000 to the Dartmoor Hill Farm project which is working with the Natural Fibre Company on a range of products to make full use of every fleece.
Kay Bickley, from the Electric Vehicle Charging Network in Okehampton, was given £15,000 to help develop a network of 40 charging stations and five travel hubs for zero-emission vehicles (bikes, cars and trampers) across Dartmoor.
The panel said once the network was established, Dartmoor would become a model for rural accessibility for electric vehicle users.
A £10,000 award was also given to local residents to help build an extension to Ilsington Village Hall that will be used as a shop, meeting place and café run by volunteers.
A number of smaller schemes also received grants from the panel of less than £2,000.