Kingskerswell bypass work could start in 2012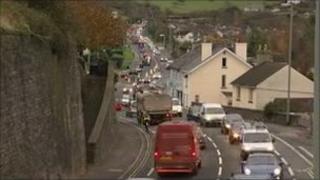 Work is expected to start on a new south Devon bypass in less than a year the county council has said.
The government has awarded £76.4m towards the £110m cost of the 5.5km dual carriageway around Kingskerswell.
Devon County Council and Torbay Council have committed £33m towards the scheme and Teignbridge District Council will contribute a further £500,000.
The county council hopes work will start in October 2012 and be completed by December 2015.
Council leader John Hart said the bypass, which was first proposed more than 50 years ago, would "improve the lives of thousands of people and provide a major boost to the whole economy of South Devon".
The Mayor of Torbay, Gordon Oliver, said: "At long, long last, what absolutely brilliant news this is for Torbay and south Devon.
"As we have been saying for many years, Torbay's economic prospects have been severely hampered by chronic highway congestion."
The bypass was one of 20 major new transport projects announced by Chancellor George Osborne.