Exeter-based Flybe secures £323m finance for 20 new aircraft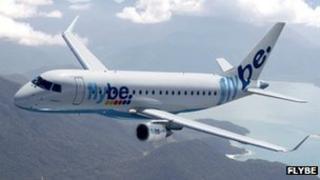 The Exeter-based airline Flybe has secured £323m ($500m) of funding to buy 20 new aircraft.
The Brazilian Embraer E175 jets will join and replace some of the existing fleet between now and July 2014.
The finance was secured from the Brazilian Export Development Bank (BNDES) following a deal in 2010 to buy up to 140 new aircraft.
Flybe said it was definitely buying 35 aircraft, with the BNDES contract securing funding for 20 of that order.
Increased profit
The airline said 29 of the aircraft would replace existing planes and six would be "earmarked for growth".
Jim French, Flybe's Chief Executive Officer said: "The BNDES financing secures all our planned aircraft financing requirements through to July 2014 and is an important milestone for Flybe."
The deal with Embraer comprised 35 firm orders for Embraer E175s, with options and purchase rights for a further 105 E-series aircraft.
He said the finance deal followed news that the company's interim results for 2011/12, showed a 74% increase in profits before tax to £14.3m, up from £8.2m last year.
The company, which was formerly Jersey European, currently operates 200 routes across 13 countries.